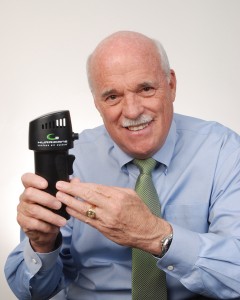 John Scherer is the CEO of Canless Air System www.canlessair.com.  In this interview, John answers questions about the journey of the O2 Hurricane, about being more green, about the role social media plays in his company, and a few others.
This is probably one of the coolest inventions I have seen in a long time, how
 did you get the idea for Canless Air?  The inventor contacted me in May of 2011, he's been working on it for 12 years and wanted me to be the spokes person. 

The more I got to know about it, I knew I had to buy it, develop it and market it myself.
How did you know it would work?
I didn't, that's when you roll the dice, there's never a guaranty. But if you believe in something, just act on that instinct. Frankly, this is one case where I wasn't at all surprised by the positive reaction.
How long did it take to go from idea to your first sale?
  It took about ten months of me pushing pushing pushing, designers, engineers, suppliers and me learning about manufacturing the whole time.

 We continue every day to find ways to make it better. That we'll never stop doing.
What was the biggest mistake or misstep you took and how did you correct it? The Misstep was matching the battery to the charger, we quickly identified the problem, matched them correctly and went back to the market. Rarely is anything perfect coming out of the box, it's the ability to react quickly and adjust that is key in product success.


What advice do you have for inventors or entrepreneurs?
The best advice is if you want to succeed be prepared to stay with it, long hours, lots of ups and downs and plenty of heart ache, never give up! If it was easy everyone would do it. Remember it's a long way from the garage to the consumers hands. Most of all, enjoy the challenges. Get up each morning with a level of enthusiasm that yesterday was just that. The new day always brings new opportunities.


You have the Original and the Industrial, what is next for O2 Hurricane Canless Air System?
Just always working on making it better, we have great attachments for it you'll see very shortly. Most are driven by feedback by existing users of the 02 Hurricane.
What else do you do in your offices that is green or eco-friendly? We use recycled products every chance we get, from paper to plastic to printing cartridges.
What else excites you in the arena of green and eco-friendliness?  The electric cars, I think one day we'll all have one.
What are 4 things that anyone can do right now to be more green? Recycle, drink tap water, walk or ride a bike and use the O2 Hurricane.
How are you using social media to promote this innovative idea of Canless Air?


We use it to share news, other stories about green alternatives, to showcase our in-house produced videos, to engage influencers and reach out to like-minded people who are also innovators in their own fields.
Tell me about ROI, can you share some hard numbers from one of your clients?
Our clients find that using our O2 Hurricane has completely eliminated the use of canned air, for example; one customer bought a hundred of our O2 Hurricane units (approximately $10,000 worth) and stopped spending tens of thousands of dollars on canned air(air Dusters)

 ROI in this case is far more important to our customers than us.
What is your favorite social media tool?
Facebook
,
YouTube
and
Twitter
are very effective. We connected with you via Twitter for example. But we're starting to use Pinterest and the new Qwiki app for iPhone is interesting. What's important to understand about both Social Media and Traditional Media (which we still use as well) is that they are all just pipelines. It's what you put into those pipelines that's important. Good content is key. Ultimately what we like best about Social Media is the immediacy of it, the ability to interact and engage customers or potential customers.
Are you Android or Apple?
  Both, how's that for politically correct, but it's true. 

Technology is about what works best for you. What great is we as consumers have so many choices. Competition is good.
What is your favorite flavor of Ben & Jerry's Ice Cream?
Chocolate Chip Cookie Dough

. In moderation of course!
What is your favorite outdoor activity? Walking with my dog or riding my bike.
Final thoughts about being more green. I think the perception, while declining, is that somehow going green is expensive. It simply isn't. Our own product proves that. But solar, hybrid cars, re-cycling are all very cost effective and any business or home can go green and save green at the same time. We've only got this one planet to live on, at least in my lifetime. We need to get better at taking care of it.